1. Secure the equipment
Now it's time to secure the tether and connect to the underwater drone.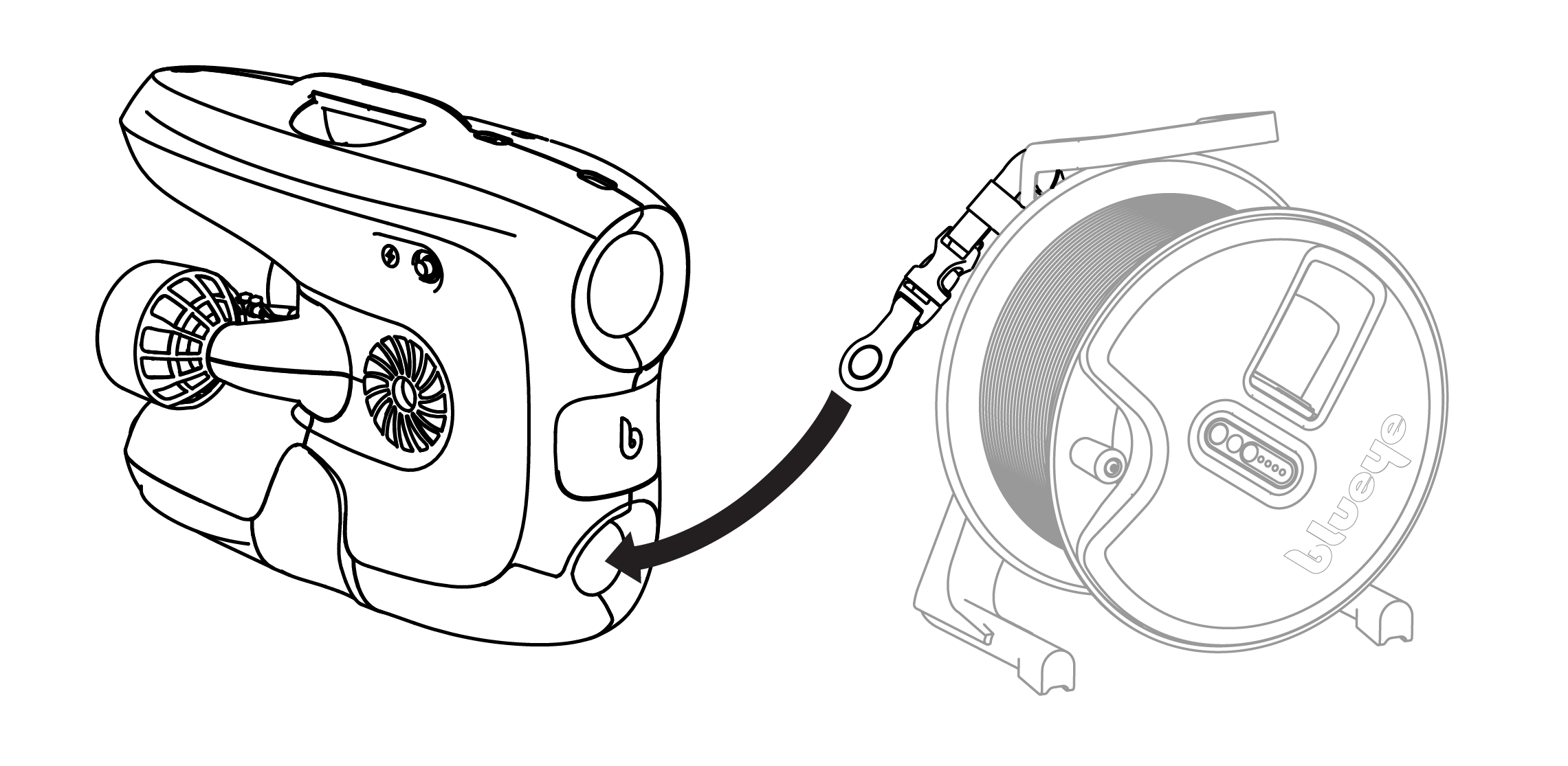 Attach the Blueye tether bag/reel with the roll-top buckle to something stationary to avoid that the bag gets dragged into the sea. It could be the boat, dock railing or a tree.
2. Connect to drone
When you have found your diving spot, inserted the battery and secured your tether, you are ready to turn on and connect to the drone.
Follow these steps to connect to the drone:
1. Download and install the Blueye App to your device.
iOS: https://itunes.apple.com/no/app/blueye/id1369714041?l=nb&mt=8
Android: https://play.google.com/store/apps/details?id=no.blueye.blueyeapp

Note that the Blueye App for Android is still under active development and is currently available as a public beta. Some functionality is missing.

2. Turn on the Surface Unit
by pressing the power-on button. The power button will light up and the surface unit will initialize and the battery status LEDs will sweep from side to side. Once the initialization is completed the battery status will show the current battery charge.

3. Turn on the drone.
Place the "ON" side of the magnet attached to the Blueye Bag against the LED lights window until a melody is played and lights start blinking.

4. Connect your device to the Surface Unit.
Go to WiFi-settings on your device and connect to "Blueye_XXXXXX" (Default password is: 1234567890).

Read more: Surface Unit Settings

5. Turn on the controller.
PXN iOS: Turn on the controller by the press and hold the on button until the lights start blinking. Press and hold the Bluetooth button until the lights start blinking at a faster rate.

PXN Android: Turn on the controller and put it in pairing mode by pressing the Mode button and the A button at the same time. Verify that the first light blinks at a fast rate.

Xbox: Press the button power (xbox logo). Press and hold the "pairing" button for three seconds to enter pairing mode. iOS device: Go to "Settings -> Bluetooth -> Pair new device". Android device: Go to "Settings -> Connections -> Bluetooth -> Pair new device". The controller should appear as Xbox Wireless Controller in the list of available devices. Read more about the Xbox controller.

Rugged controller: The controller is already connected to the Samsung tablet device.

6. Connect the controller.
To connect the controller to a mobile device, go to Bluetooth settings and select the controller. The name of the iOS controller is Speedy Gaming Controller and on Android, the name is PXN-9613.

If the controller is not found or you are unable to connect, restart the controller and turn Bluetooth off and on.

Read more: Connecting Android Controller

7. Open the Blueye App.
The drone should connect automatically. If not, tap "Connect your drone".

8. Attach the phone to the controller mount
or control the drone directly from the phone (touch screen controls).

Read more: Diving & Control
3. Video tutorial on setup and connect
Watch the full Set-up & Connect video tutorial here