Safety warnings
Warning:

To avoid damage or injuries, read the safety and maintenance information before using your Blueye underwater drone.
We recommend that you do your first dives with the Blueye drone in a line of sight. Preferably in calm waters to get accustomed to the controls and the behavior of the vehicle. Make sure that you have all the necessary equipment at hand and over 80 % battery on all devices.
Read more:
How to check the battery status
Safety and Handling information

| | |
| --- | --- |
| | Conditions OK to dive in |
The Blueye Pioneer underwater drone is certified to dive down to 150 m depth. The drone can handle bad weather like snow and rain, so don't be afraid to go out diving in different kinds of weather. Diving in open waters is preferred as wrecks, rocks, kelp, and other structures may get the tether stuck or damage the drone.

The Blueye Pro ROV is the answer to all professionals with a need for a flexible and easy to use tool to perform their inspections, without being dependent on divers or specially trained pilots. With new features such as the camera tilt-function, improved camera quality and the increased depth rating to 305 m, Blueye users will have more flexibility to fulfill more use cases for underwater inspections.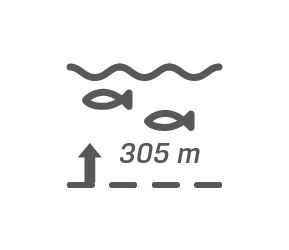 | | |
| --- | --- |
| | Conditions to be aware of |
The ocean is full of precious corals, kelp, animals and different structures like shipwrecks. You should always be aware of where you are diving and try to avoid places where your tether may get stuck or places where you can damage the drone.
Children should only operate under the supervision of adults.

Beware of WiFi limitations
In areas with lots of electromagnetic interference, you may experience lag or artifacts in the video stream. Electromagnetic interference may be caused by large steel or concrete structures or areas with lots of other WiFi activity. To resolve this you can try to move closer to the surface unit or move to another location.

Conditions where you should

not

dive
The Blueye underwater drones are not designed to be used in greater currents than 1.5 m/s. Diving in strong currents may result in losing control over your drone. If you are launching the drone from a boat or from a quay, please keep the tether away from boat propellers and other humans. You should not dive during thunderstorms.