Overview
Introduction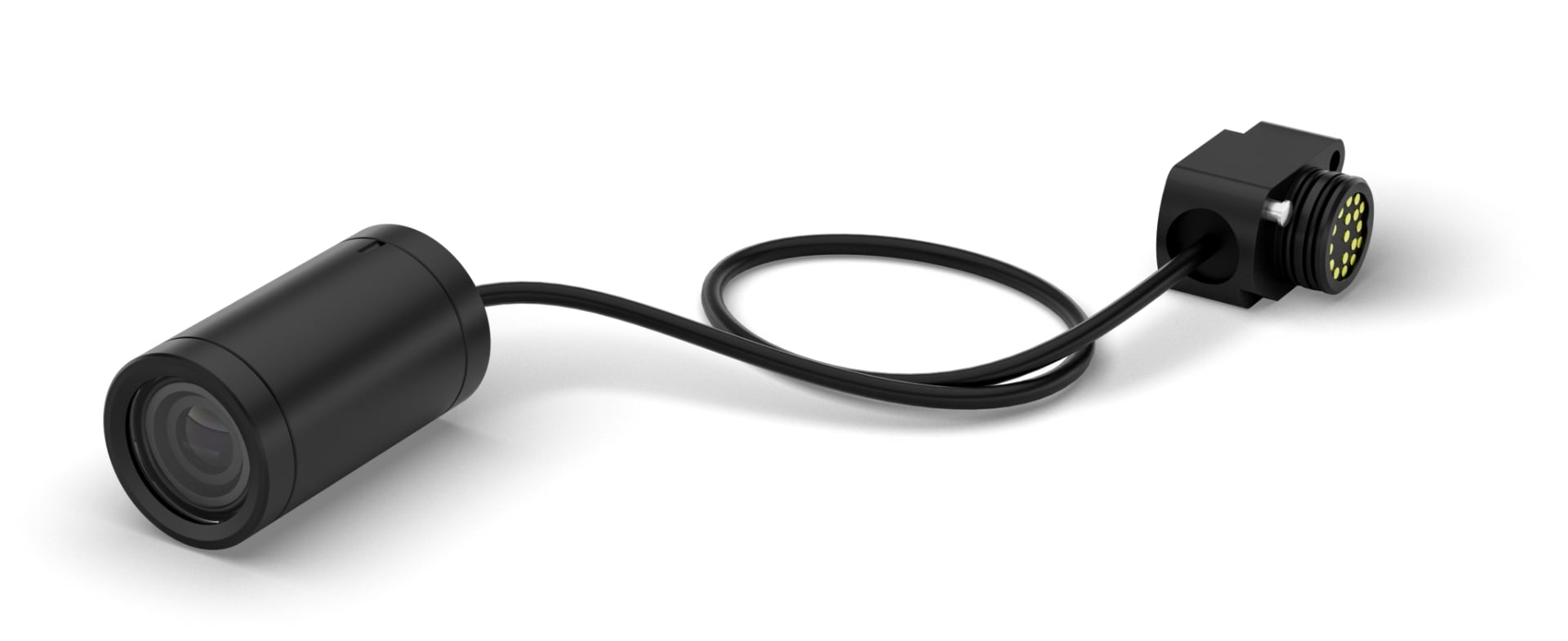 One of the available peripherals for the new X3 underwater drone is the Blueye External Camera.
It uses the same high-quality camera found in our Blueye Pro drones packaged into a tiny waterproof enclosure.
The camera can be mounted in numerous ways depending on your use case, and you will be able to view both the primary camera and the external camera simultaneously.
You can point it straight up to inspect the hull of a flat bottom boat, or you can mount it pointing backward to get better spatial awareness when accessing tight spaces.
How to install
We are working on a video tutorial explaining how to install the Blueye External Camera on your X3 underwater drone.
How to use the external camera in the Blueye App
In the Blueye App, you can switch between the internal and external camera by:
holding the (LB) left bumper or the (RB) right bumper and pressing the (A)-button on the controller to switch between the main camera and the external camera
navigating to the External Camera settings page in the in-diving menu and selecting which camera to use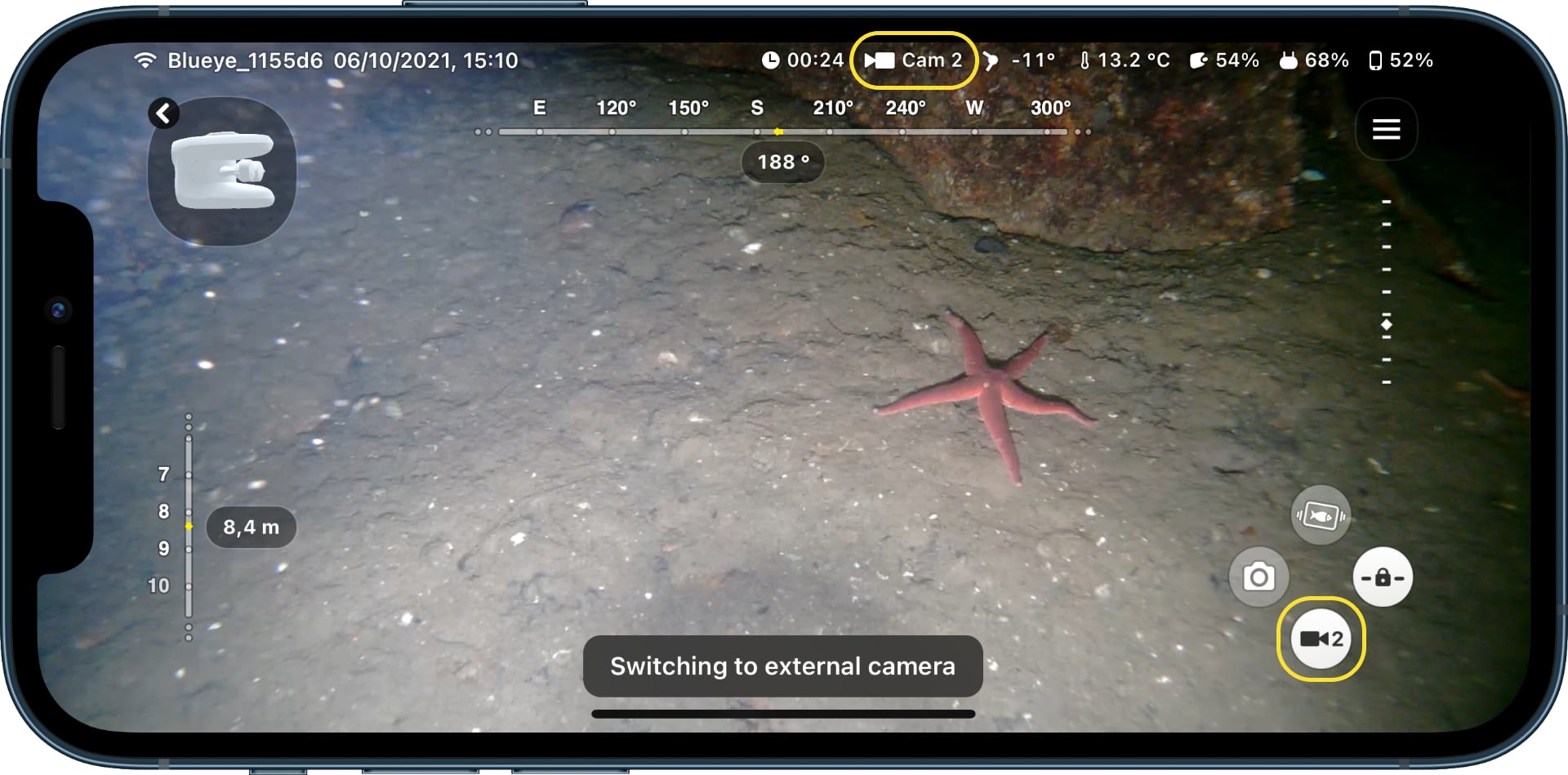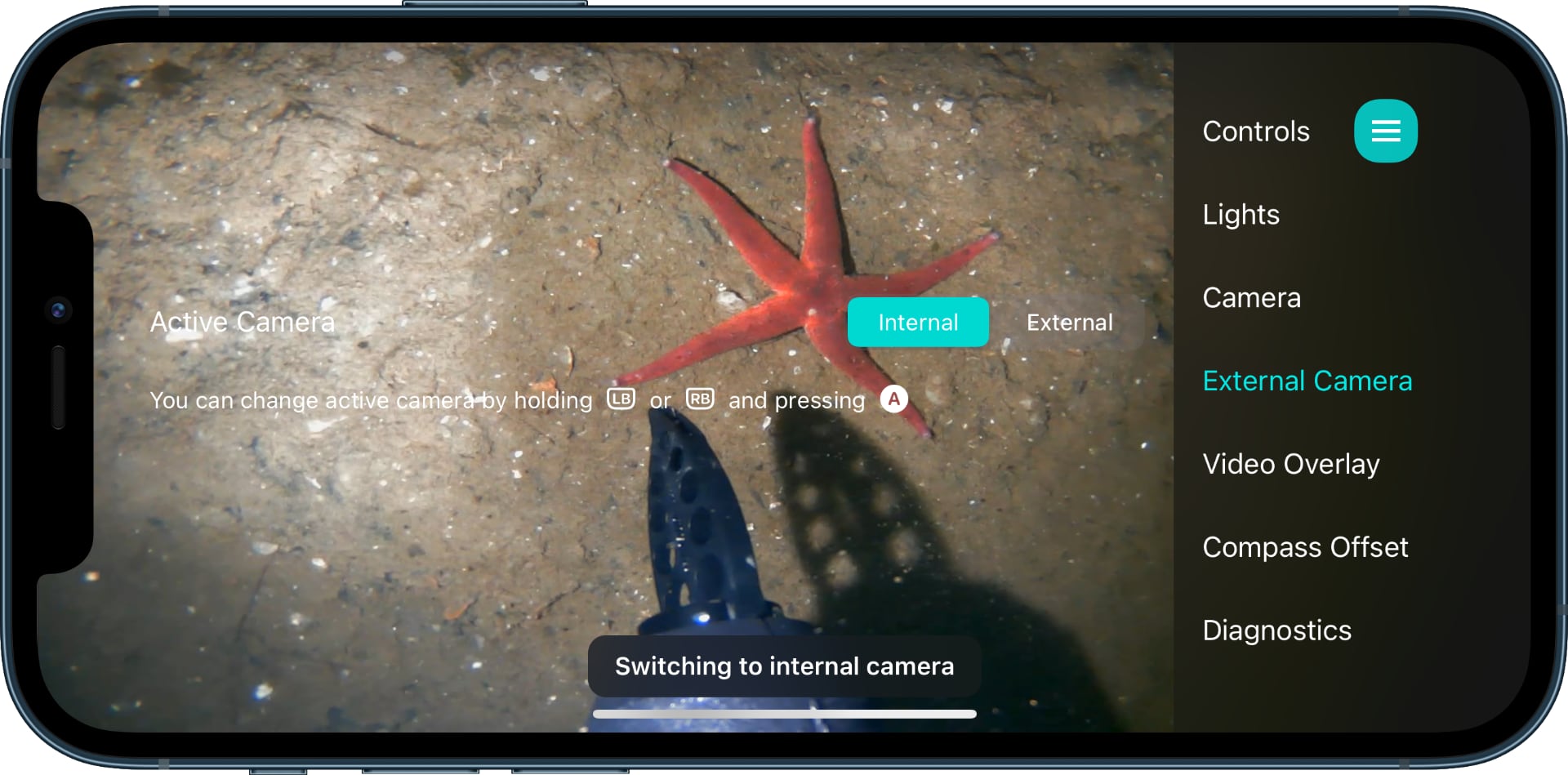 The drone will capture still pictures and record video from both cameras at the same time. We will add additional settings to select which camera to use for media capture in a future software update.
Any camera settings such as Exposure, White Balance, and Hute will be applied to both cameras. The external camera records in the same bitrate used for the video stream, while the main camera always record in 14 MBit.
How to use the external camera in the Blueye Observer App
On iOS, you will be able to view both the main camera and the external camera simultaneously. The two video streams will play simultaneously in picture-in-picture mode if the device is in a landscape orientation or side-by-side when in portrait orientation.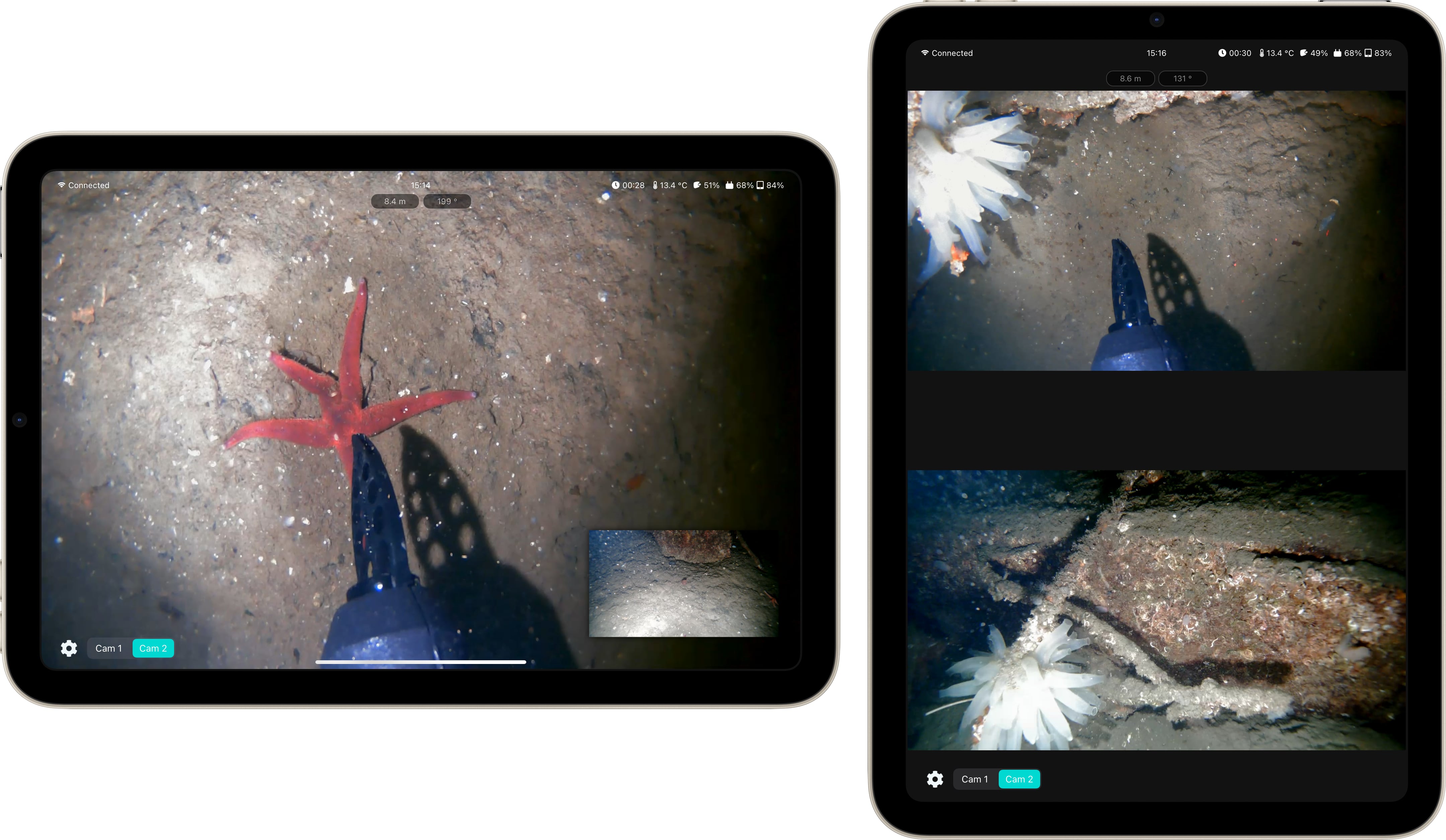 You can switch which video stream should be played in the main window in picture-in-picture mode by double-tapping the small video player or changing the selected camera in the camera selector.
On Android, you use the camera selector to choose which video stream to view. In the future, we will try to bring the same dual streaming capability to Android as well.
How to download media files
When downloading media files using the Blueye App or the Blueye File Transfer app, a small icon is added to the thumbnail to indicate if the file is captured by the main camera (1) or the external camera (2).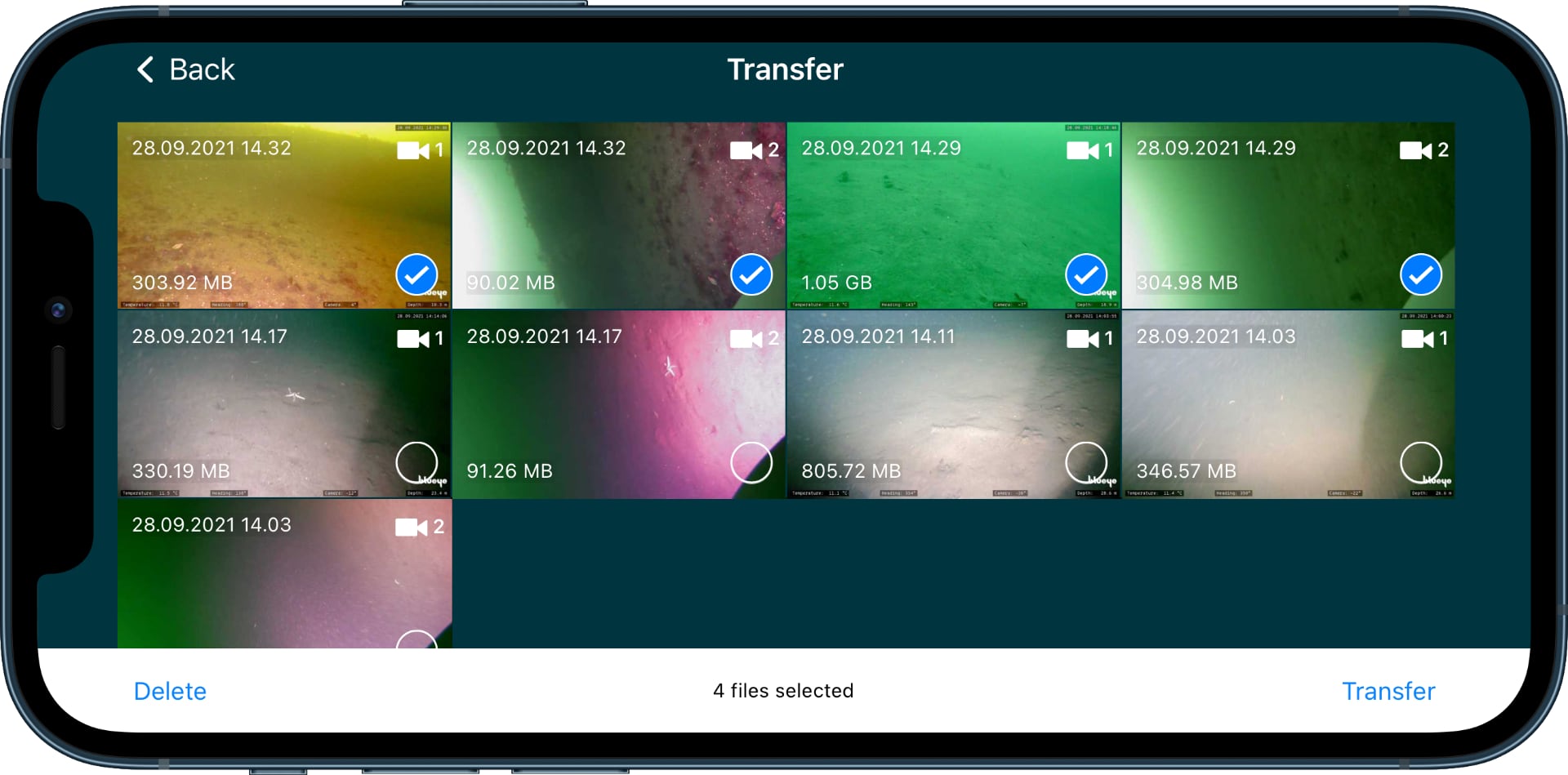 Specifications
| Specs | Value |
| --- | --- |
| Dimensions | Ø35 x 63 mm (DxL) |
| Weight in air | 125 g |
| Weight in water | 53 g |
| Operating temperature | -20 to +40 °C |
| Depth rating | 500 m |
| Sensor | CMOS, 1/3 inch |
| Max image size | 1920 x 1080 pixels |
| Shutter speed | 1/30 s – 1/8000 s |
| Picture max resolution | 2M (1920 x 1080) |
| Picture type | JPEG |
| Video resolution | FHD: 1920 x 1080 25/30 Fps, HD: 1280 x 720 25/30 Fps |
| Video type | MP4 |
| Max. power consumption | 2W |