Note: Our support team is currently working on more X3 related support material. Check back later for further articles and tutorials. If you have any issues or other questions, please reach out to us!
About the Blueye X3 drone
The Blueye X3 launched June 1st 2021, is the third and latest Blueye ROV model.
What's new?
Guest Ports: Three guest ports for integrating external peripherals such as sonars, manipulators, sensors, cameras, or lights. The three guest ports offer three multiple power levels and eight different communication protocols. See technical specifications for the Guest Ports
Storage: The X3 comes with 256 GB of storage, four times the capacity of our previous models.
Image quality: We have improved the camera with a larger image sensor for better image quality in murky waters and low light conditions.
Reinforced frame: To the aluminum backbone, we have added a new strong point for robustly mounting external payloads.
2nd generation Surface Unit: We have greatly improved the robustness of the Surface Unit by switching to a waterproof USB-C connector, protected by an improved water cover. We have moved the antennas inside the enclosure to remove the risk of damaging or breaking these. The communication module on both the X3 and Surface Unit sides has been updated, ensuring a more robust connection over longer tethers. The 2nd generation Surface Unit is compatible with existing Blueye Pioneer and Pro drones.
X-box Controller: For the X3, the new default controller option will be the latest Xbox controller. This high-quality controller supports iOS and Android devices and can be used wirelessly over Bluetooth or a wired USB connection.
Blueye X3 Basekit:
(Missing in the photo: X3 ROV, tether, reel-case, transportation case)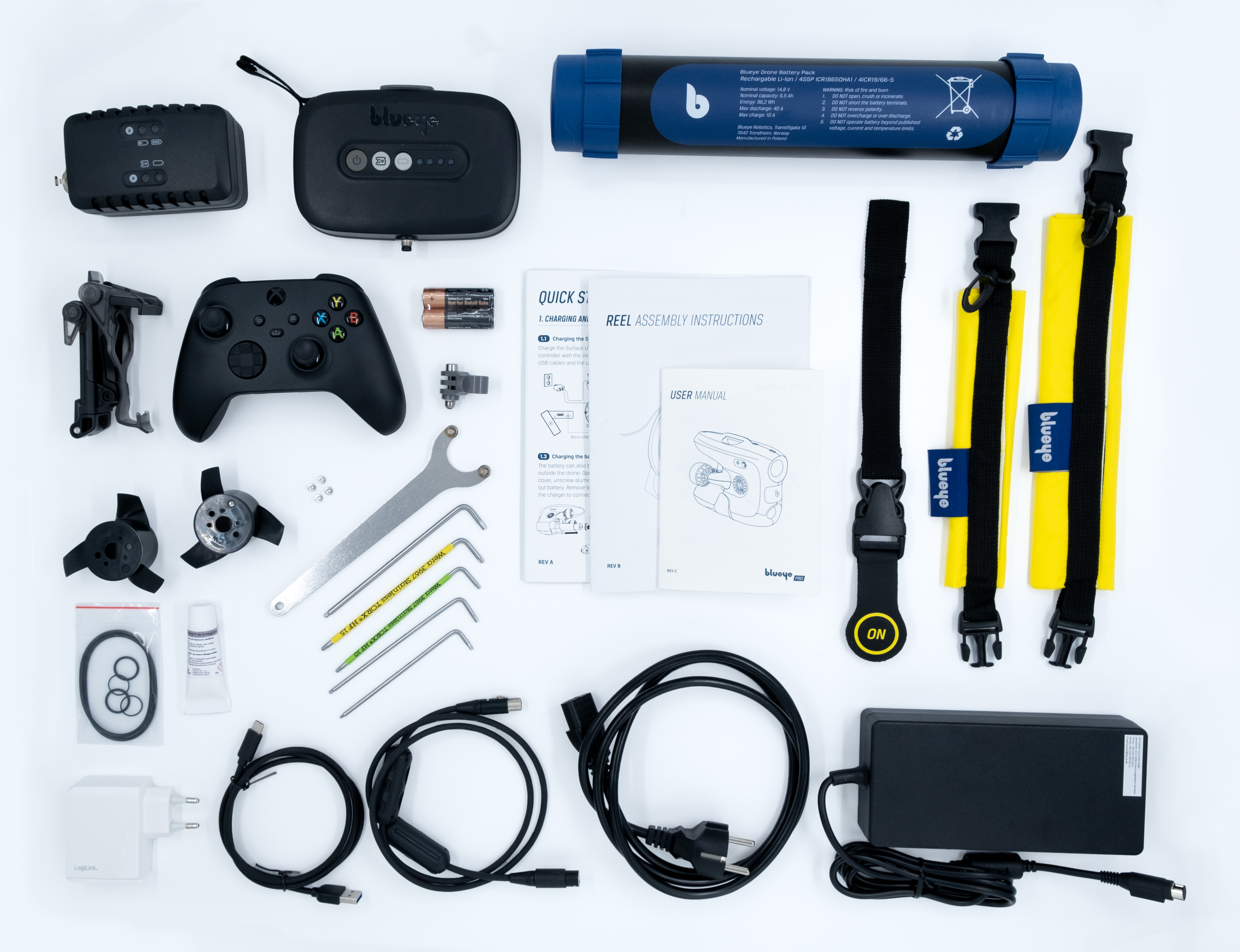 User manual and tutorials
Our support team is currently working on creating more X3 related support material. For further information about the X3 and external equipment, please check back soon.
For instructions on how set up, dive and control your X3 drone, check out the rest of the User Guide articles , video tutorials or the Blueye Pro user manual.
Note that some information/instructions in existing support articles do not apply for the new x-box controller and Surface Unit (2nd.Gen.), and do not take into account external equipment mounted on to your X3.
Further X3 support
If you run into any issues or have questions related to your X3 drone and equipment, please reach out to us via email (contact@blueye.no) or submit a request in the top-menu.