The Blueye iOS app supports multiple game controllers. Included in your Blueye package is a PXN-6603 wireless controller. This article describes how to connect the controller to your iOS device.
First time pairing:
Pairing is the process required to create a link between Bluetooth devices to allow wireless connection. You must pair a device with the controller to be able to make a Bluetooth connection for the first time.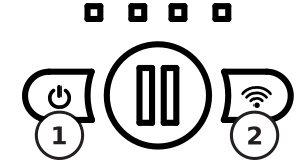 To activate pairing mode on the controller:
Turn the controller on by holding down the red Power button for 5 seconds or until you see all four LEDs blinking.
Press and hold the blue Bluetooth button for 5 seconds or until you see all LEDs start blinking rapidly
On your iOS device go to "Settings -> Bluetooth" and "Speedy Gaming Controller" should appear in the device list as shown in the picture below.


Press the "Speedy Gaming Controller" text and the left LED on the controller should now show a solid red light.
"Speedy Gaming Controller" should now be listed under "My Devices" with status "Connected" in the Bluetooth menu as shown below


Connecting to a paired controller:
After the controller has been paired with a device, the device will remember the controller and you only need to use the Power button to turn the controller on and off.
Power On: Press and hold Power button for 5 second or until all LEDs start blinking
Power Off: Press and hold Power button for 5 seconds or until the LEDs turns off