Remember NOT to bring the high capacity when traveling by plane, as it is 212.4Wh.
Overview
Introduction
The Blueye High Capacity Battery is a 212.4Wh removable battery that provides up to 5 hours of diving time. It can be charged while installed inside the drone or directly with the Blueye charger.

As the battery capacity is more than 100Wh, it is NOT allowed as a carry-on item on airplanes, according to the lithium IATA guidance document. It needs to be carried as cargo in accordance with the IATA Dangerous Goods Regulations.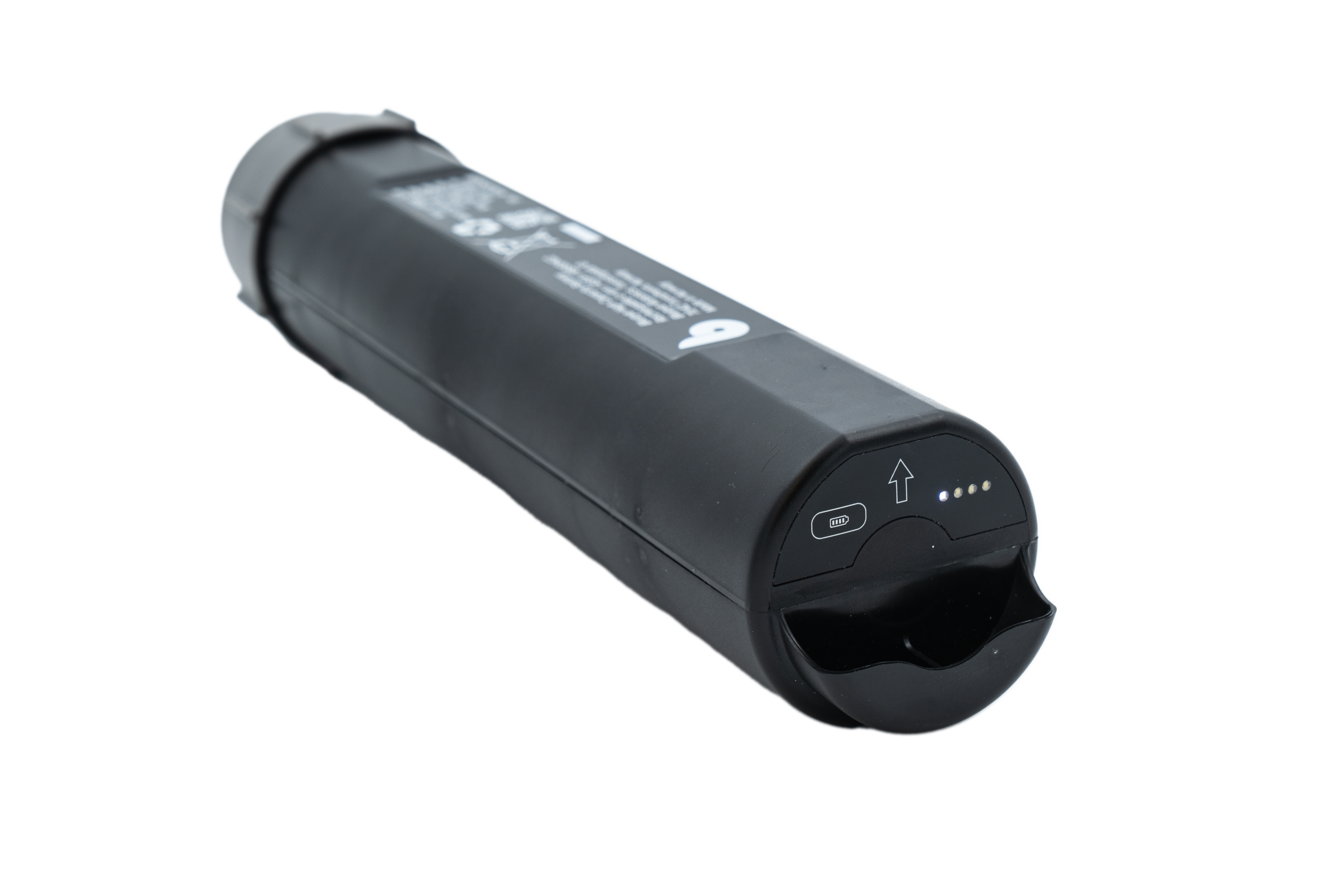 New features
The new battery comes with new improvements over the 96Wh battery:
Increased capacity to 212.4Wh, doubling the previous battery capacity.
Built-in battery checker, status LEDs show the current state of charge.
Contains flat surfaces to prevent it from rolling.
Solid handle
Runtime
The new battery has an increased capacity of 212.4Wh, providing a runtime of about five hours in light conditions. The capacity is more than twice the capacity of the standard battery, so if you use a Blueye standard battery today, you can multiply your average runtime by 2.2. The weight remains the same as the standard battery, so trimming the ballast is unnecessary.
Charging
With higher capacities comes longer charging times, so we recommend using our second-generation charger when charging the high-capacity battery.
With the first-generation charger, you can expect to charge the battery from 0-100% in 5 hours and 40 minutes. However, this is reduced to 3 hours and 50 minutes with the latest charger.
The improved charging speed only applies to batteries charged directly in the charger. Charging inside the drone will provide similar charging speeds to the old charger.
Battery status LEDs
The LED pattern shows the battery's current state of charge. The LEDs use a combination of solid and blinking lights to provide as accurate state of charge as possible.
LED1 blinking: 0% to 12% charge
LED1 solid: 12% to 25% charge
LED2 blinking: 25% to 37% charge
LED2 solid: 37% to 50% charge
LED3 blinking: 50% to 62% charge
LED3 solid: 62% to 75% charge
LED4 blinking: 75% to 87% charge
LED4 solid: 87% to 100% charge
Specifications
DO NOT EDIT
Read more:
Charging the Blueye Smart Battery
Read more: