The charger is NOT splash-proof. It needs to be kept away from water and dust.
Overview
Introduction

There are two versions of the charger today, version 1 and 2.
As a part of the launch of the Blueye X3, the charger got a new color while keeping the same features of the previous white version. In 2023, Blueye launched a new charger that looks similar to the old one but features higher power output charging batteries faster. The Charger 2.0 remains compatible with all Blueye batteries, and the improved charging speed only applies to direct battery charging (not charging the battery inside the drone).
Improved features in the new charger (2.0)
The new charger 2.0 is powered by USB-C Power Delivery (PD), removing the need for a big power brick in order to charge. Any PD-compatible USB-C charger can be used, but it must be able to provide 100W. This is why we recommend using the included USB-C charging hub, which you can use to charge all your accessories and even your laptop if it supports USB-C charging. Charging speeds have been increased, and now the Blueye battery can be charged from 10% to 80% in just 1 hour!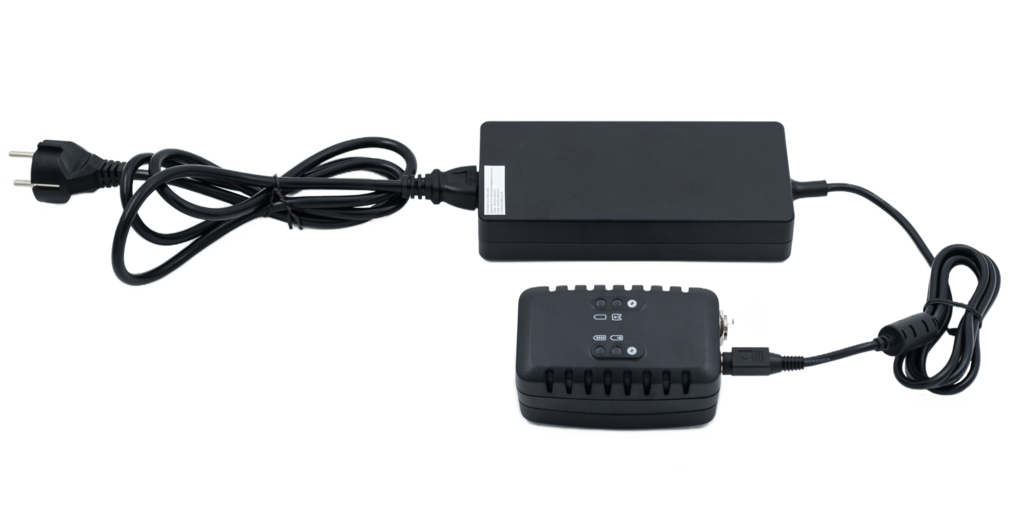 Using the charger
The charger can charge the drone battery either through the charging cable or by connecting the battery to the plug on the backside of the charger. Please make sure to store the charger in the charger bag.

To charge a battery installed in a drone, set the charger selector switch to the drone symbol and connect the charging cable to the drone from the charger.

Set the charger selector switch to the battery symbol to charge the battery directly. This will give the maximum effect if a charger 2.0 is being used.

Troubleshooting
The battery won't charge
The charger selector is not in the correct position
The battery is too cold; it will only charge between 5

℃

to 30

℃

If using the USB-C charger, ensure the supplied USB-C cable is connected to the 90W port.
The charging indicator LED is blinking yellow.
The battery is charging slowly.
Make sure the battery is connected directly to the charger to utilize the higher currents from the new charger.
Please contact our support team if you cannot solve the problem with the suggestions above.
Specifications