Overview
Introduction
The Blueye Surface Unit is the Wi-Fi router for wireless connection between the Blueye underwater drone and the Blueye App for smartphones or tablets. The surface unit is Installed inside the Tether Reel. All buttons on the surface unit and cable ports are accessible through openings in the front cover on the reel.
There are two versions of the surface unit today on the market, version 1.0 and 2.0.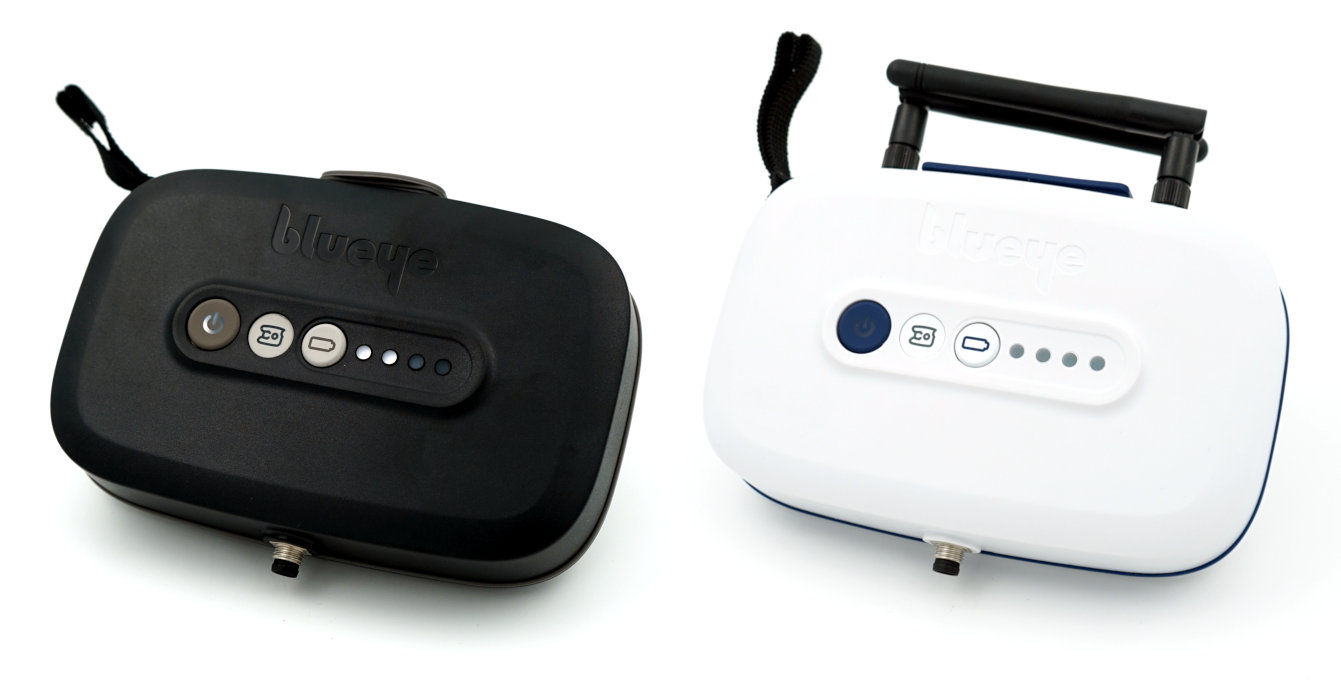 As a part of the launch of the Blueye X3, the surface unit 2.0 was released and is standard with any X3 order. For Pioneer and Pro customers the surface unit 1.0 will still be the standard. However, the surface unit 2.0 is compatible with both the Pioneer and the Pro.
Improved features in 2.0

The new surface unit 2.0 is a result of feedback from our customers. We have removed the external antennas, swapped the non-waterproof USB interfaces with a single waterproof USB-C connector, so even if you forget to close the rubber lid the surface unit will remain waterproof. The new USB-C connector is also welded into the core of the PCB, preventing the connector to break in case you trip in the cable while charging.
Custom settings
You can customize the SSID (WiFi name), password, and frequencies via the app as described in this article. Keep in mind if you change either SSID or password the "Scan to connect" sticker won't work, and we recommend removing it to avoid confusion.
Reset settings
Both surface units provide an option to reset the settings back to factory defaults in case you forget your password, SSID, or simply changed to a frequency band your device can't access.
Surface unit 1.0
Press the "RESET" button under the rubber lid gently with a pencil or a needle once while the surface unit is fully powered.
Surface unit 2.0
Press the battery button 6 times in less than 2 seconds while the surface unit is fully powered.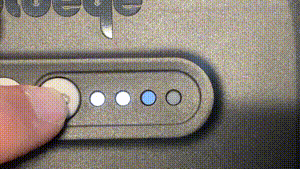 If the LED pattern starts to move in a pattern back and forward the surface unit is being reset. Once the LED pattern stabilizes to the default battery status the surface unit is ready to be used.
The default SSID and password can be found on a label located on the backside of the surface unit.
Charging and run time
The surface unit has a runtime of approximately 6.5hours with a single operator, having multiple devices connected will shorten the battery runtime.
The surface unit charges in approximately 5.5hours given the provided charger or similar (min 2.1A) is used.
Specifications
| Specs | Surface unit 1.0 | Surface unit 2.0 |
| --- | --- | --- |
| Ingress protection | IP64 | IP64 |
| Dimensions | 38 x 149 x 158 mm (LxWxH) | 38 x 149 x 105 mm (LxWxH) |
| Operating frequency | 2.4 GHz / 5.8 GHz | 2.4 GHz / 5.8 GHz |
| Max Wi-Fi distance | 30 m | 30 m |
| Battery | 19.48 Wh | 19.48 Wh |
| Operating temperature | 0 to +35 °C | 0 to +35 °C |
| Transmitter power | 125 mW | 125 mW |
| Operating voltage | 5 - 8.4 V | 5 - 8.4 V |
| Output | USB A, 5 V, 400 mA | USB-C 2.0, 5 V, 400 mA |
| Input | Micro-USB Type B, 5 V, 2.1 A | USB-C, 5 V, 2.1 A |
| Charging temperature | +10 to 35 °C | +10 to 35 °C |
| Antenna | Dual-band 3dBi RP-SMA Male | Dual-band 3dBi internal |