Download dive logs
After completing your dive, you can synchronize dive logs from your Blueye drone to your mobile device. On the main tab of the app, when still connected to the drone, tap the Sync log files button to download and import dive logs.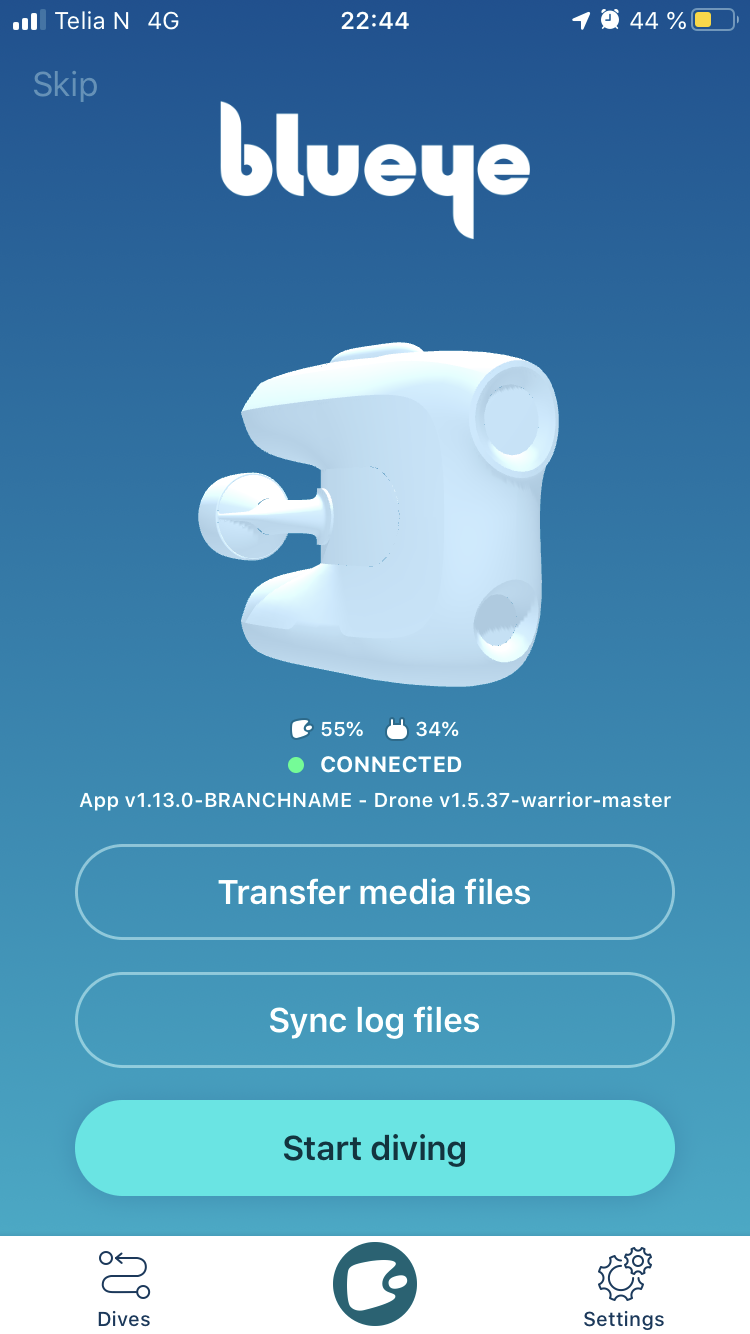 View dive logs
After dive logs have been synchronized to your mobile device, tap the Dives tab icon in the app to view a list of your dives.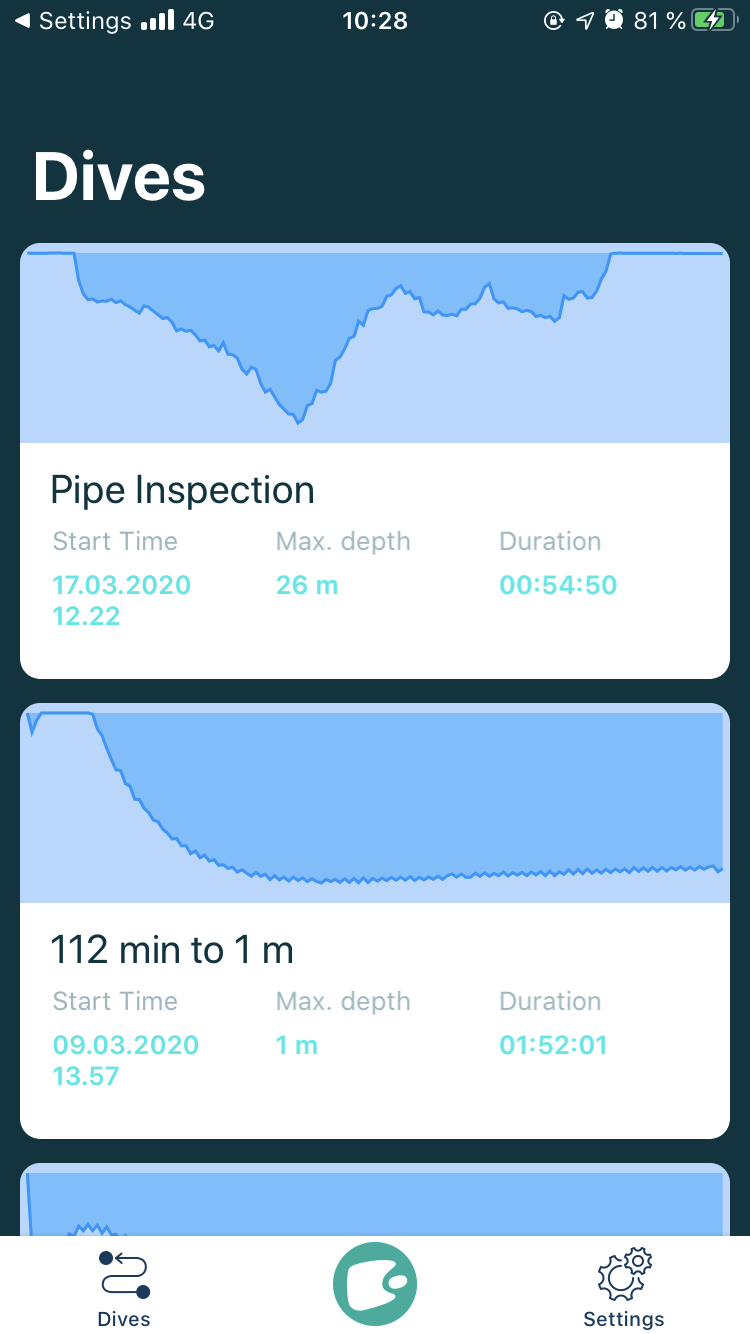 Each item in the list includes a depth profile, title, start time, maximum depth, and dive duration. Tap one of the elements in the list to view additional details, add additional details, or share the dive log.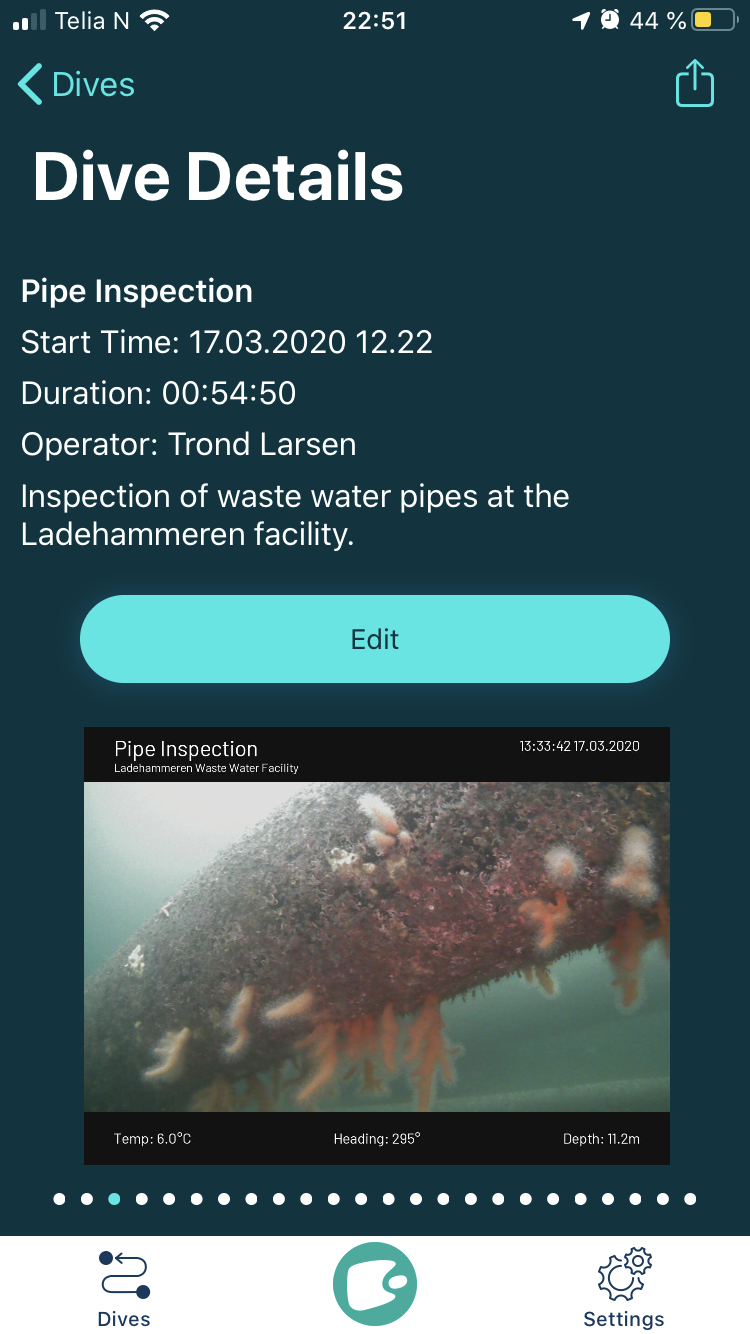 Media files
Any related media files transferred from your drone to your mobile device will be available in the dive log view. You can swipe between pictures and videos and double-tap an image to view it on full screen. From the full-screen view, you can share one or more media files using other apps available on your device, such as messaging, e-mail, file managers, etc.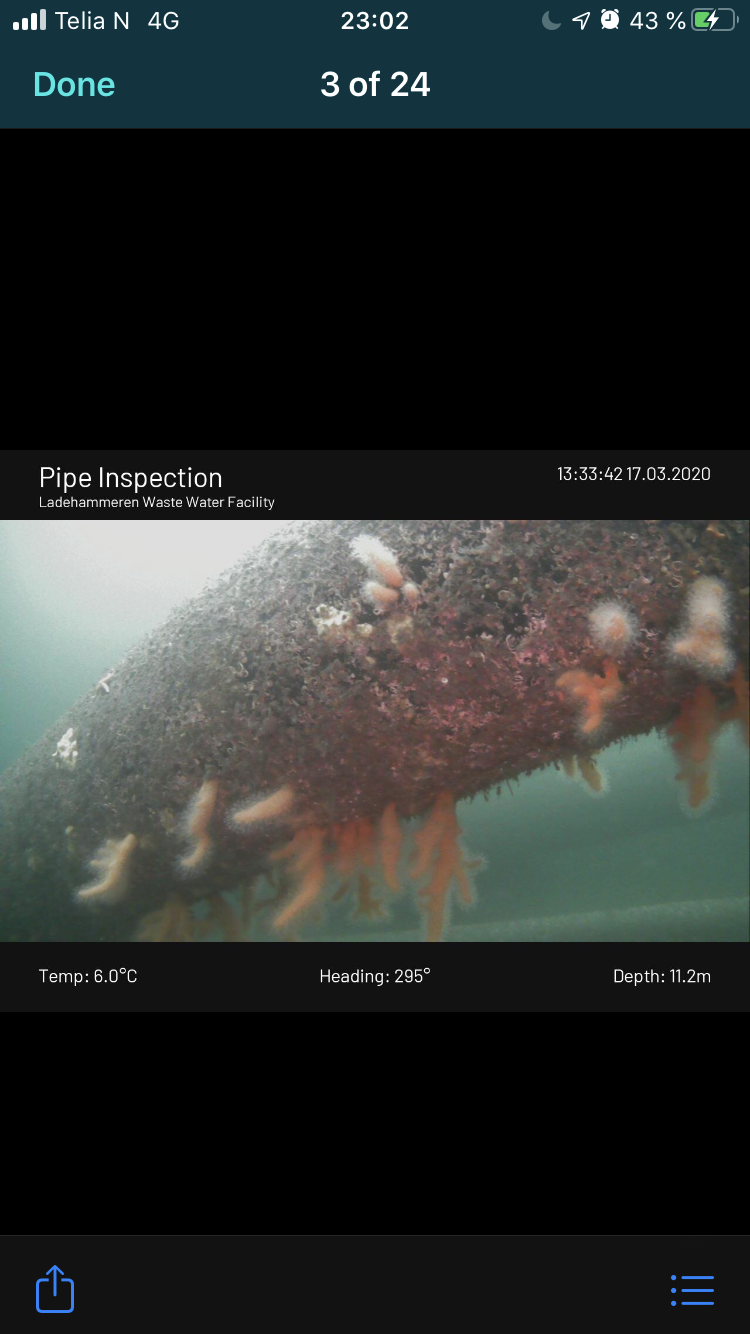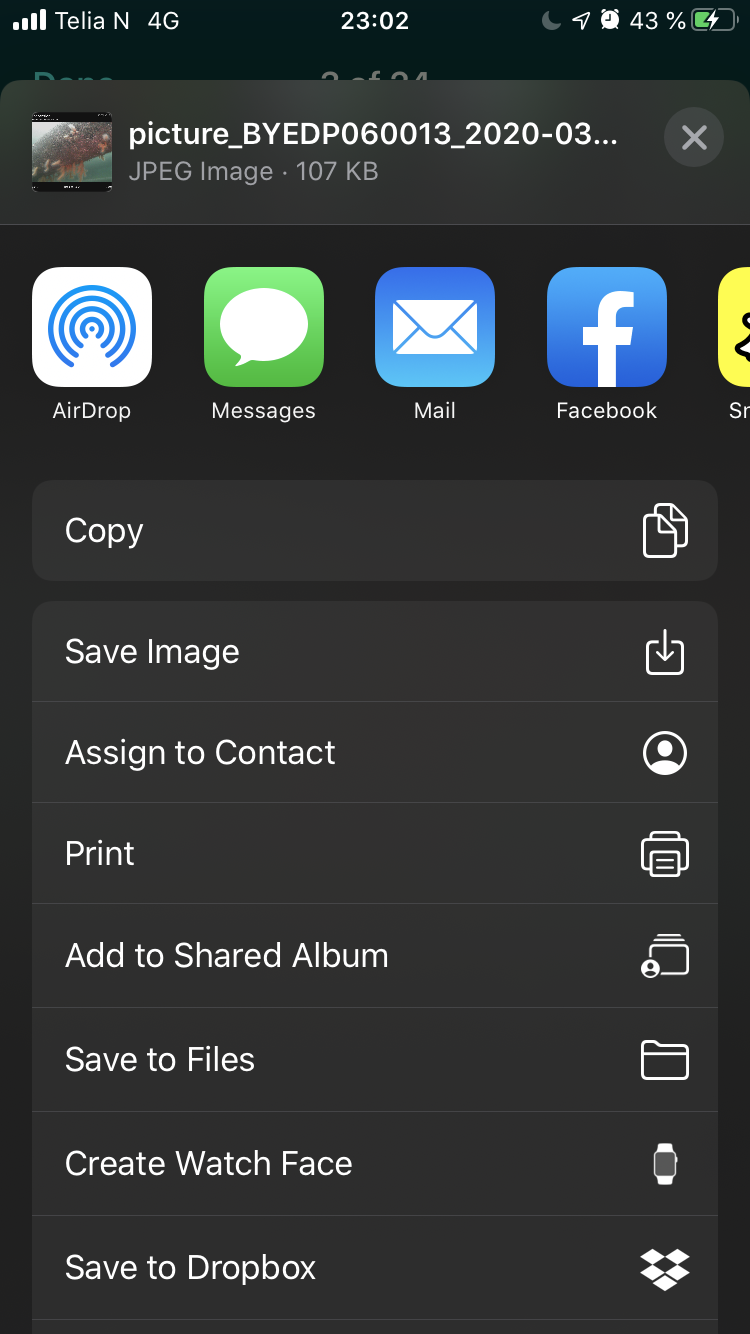 Dive data
You can also see more details about your dive on the dive details page. Scrolling down, you will find the following information:
Dive location (operator position at the surface)
Depth profile
Water temperature
Battery current consumption
Battery state of charge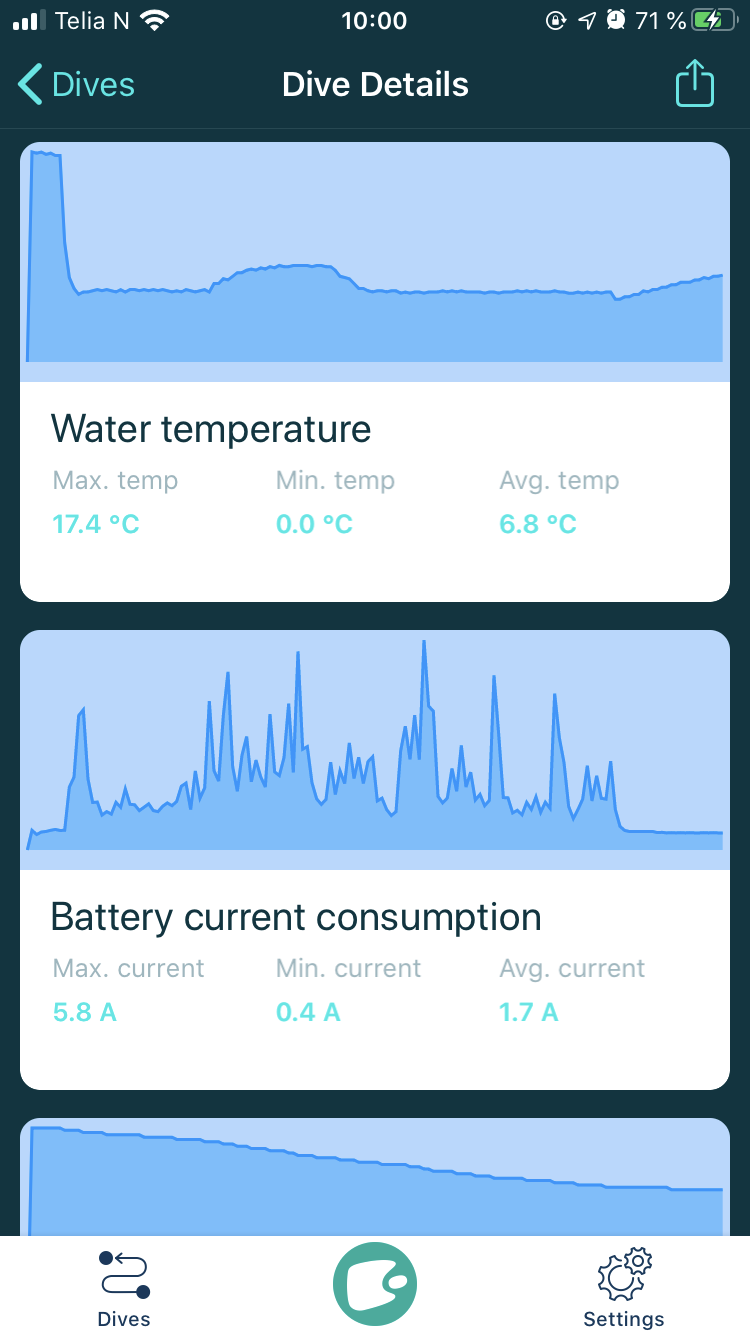 Edit dive logs
You can edit a dive and add your title, and description or select the drone operator for a given dive. Tap the Edit button to enter edit mode, and update the dive as you wish. You can either enter operator information manually or select a contact from your device address book.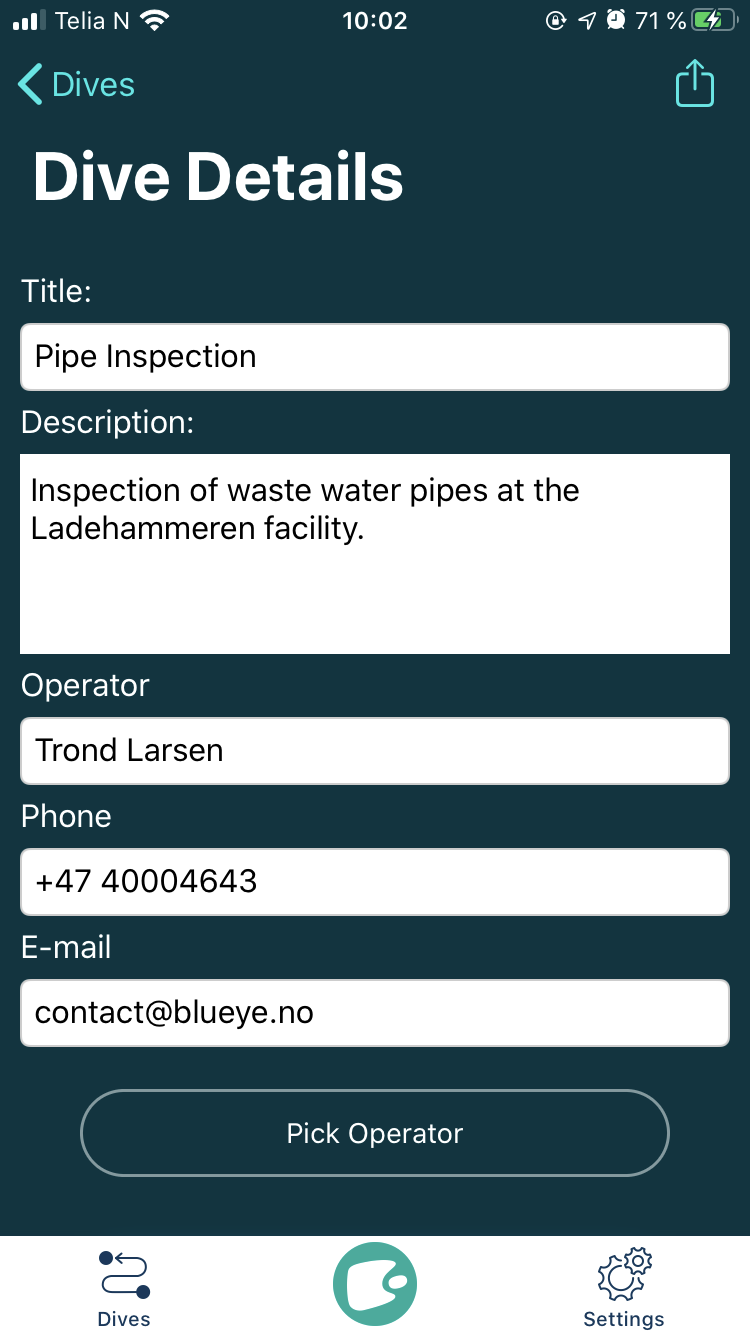 Share dive logs
From the dive details page, it is possible to share a dive log as:
A PDF document
A Word document
A CSV file
Tap the sharing icon in the upper right corner and select which format you wish to share the dive.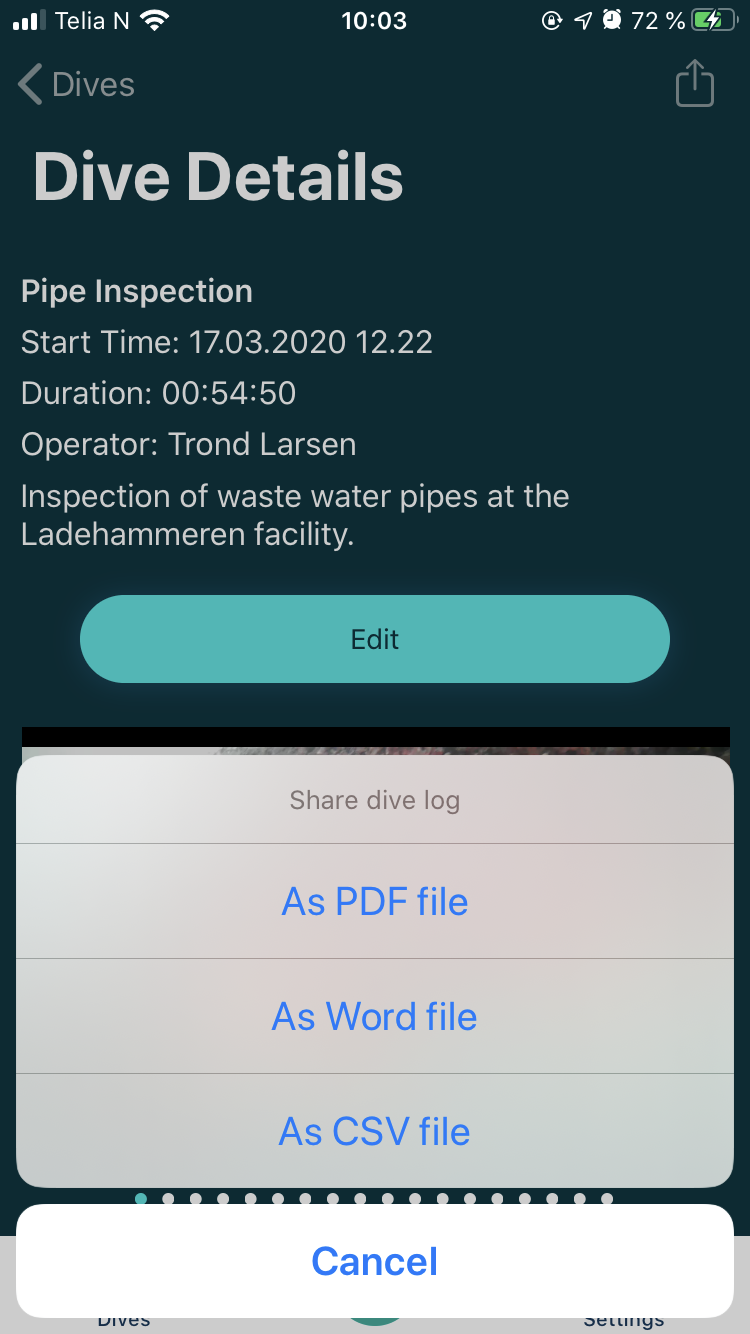 CSV file
The CSV (Comma Separated Values) file is a data file with all telemetry information from the dive, such as temperature, depth, heading, battery information, location information, and more. See this video tutorial for more information about how to use the CSV file, or visit the Blueye SDK for technical documentation for the log file format.
PDF file
The PDF file is a document representation of the dive log, with all essential information from the dive, such as:
Date and time for dive and report generation
Title and description
Operator information
Location information, both GPS and address (based on GPS location)
Average and minimum water temperature
Maximum and the average depth
Chart of depth profile for dive
All still pictures imported to your device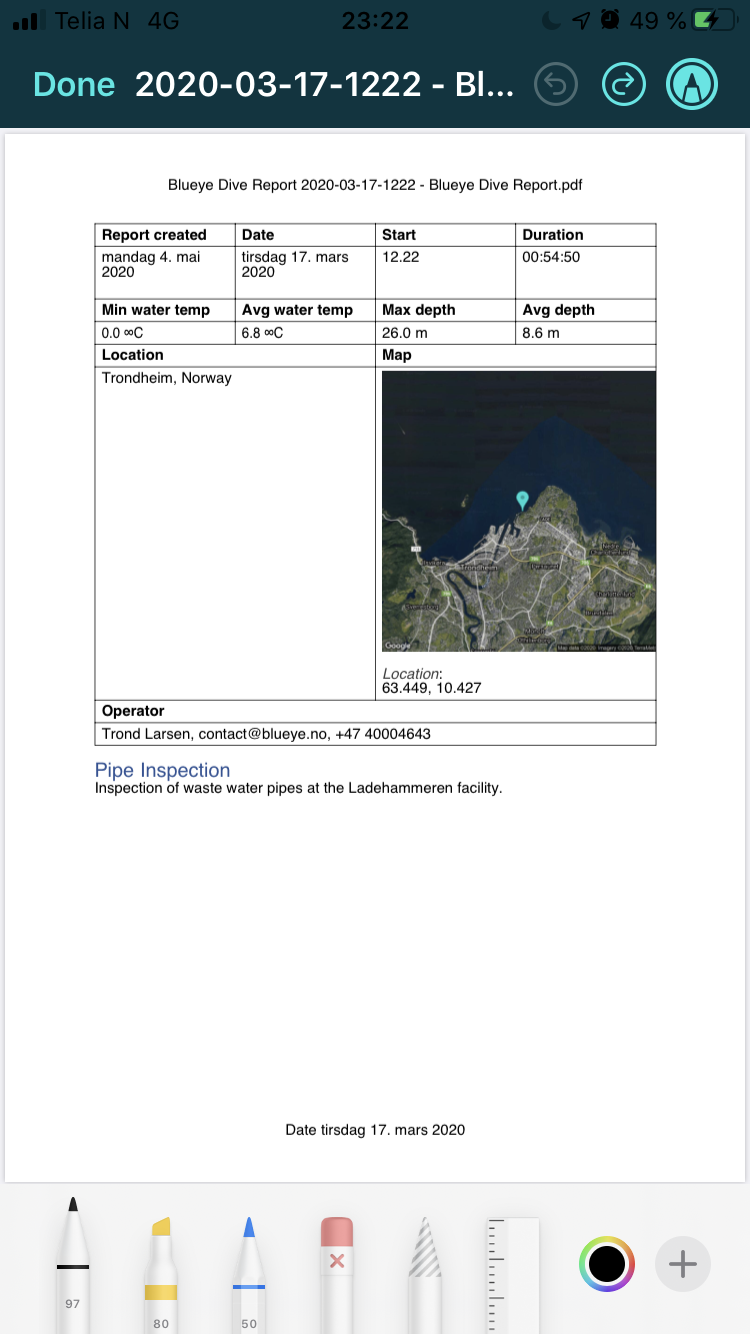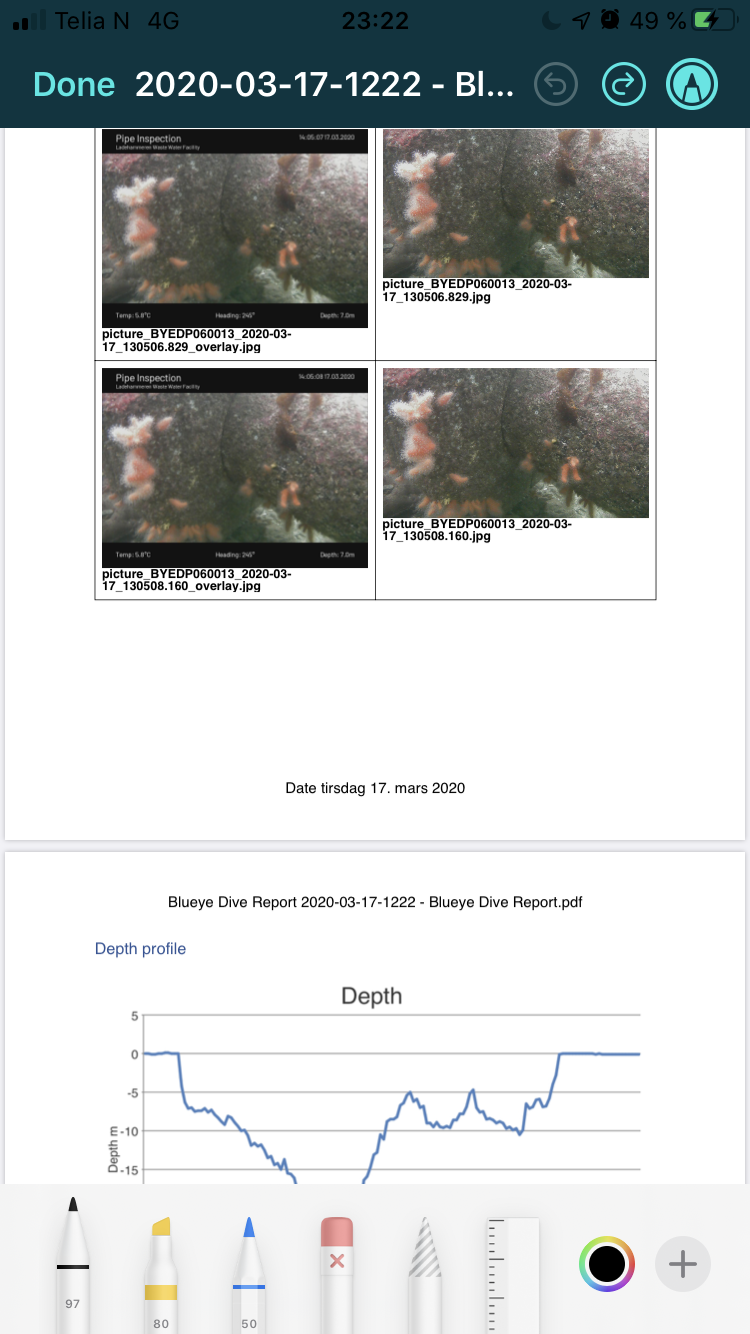 Word file
The Word file option will generate the same document as the PDF option but as an editable Word document (.docx file format). This file can be transferred to your computer or edited directly on your mobile device if you have installed the Microsoft Word mobile application for Android or iOS.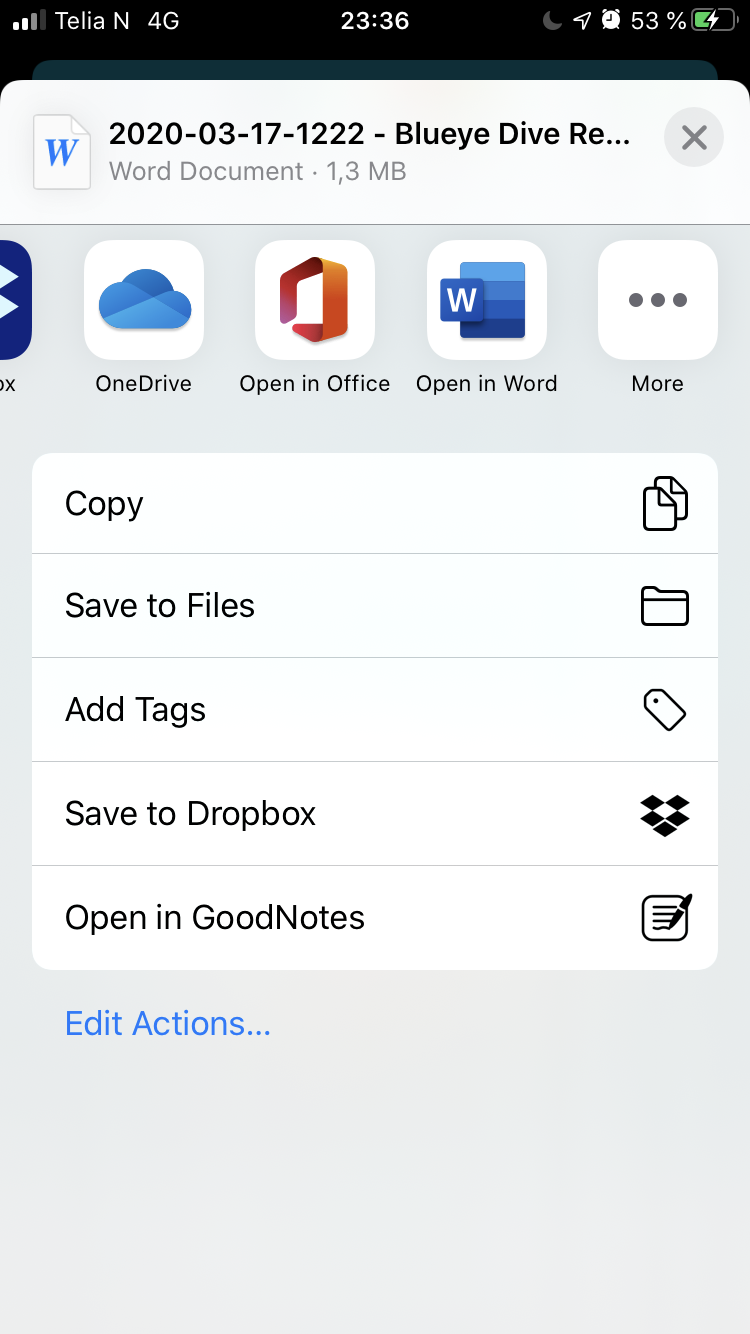 Example of sharing Word report, where OneDrive, Office, and Word apps are installed on your iOS device.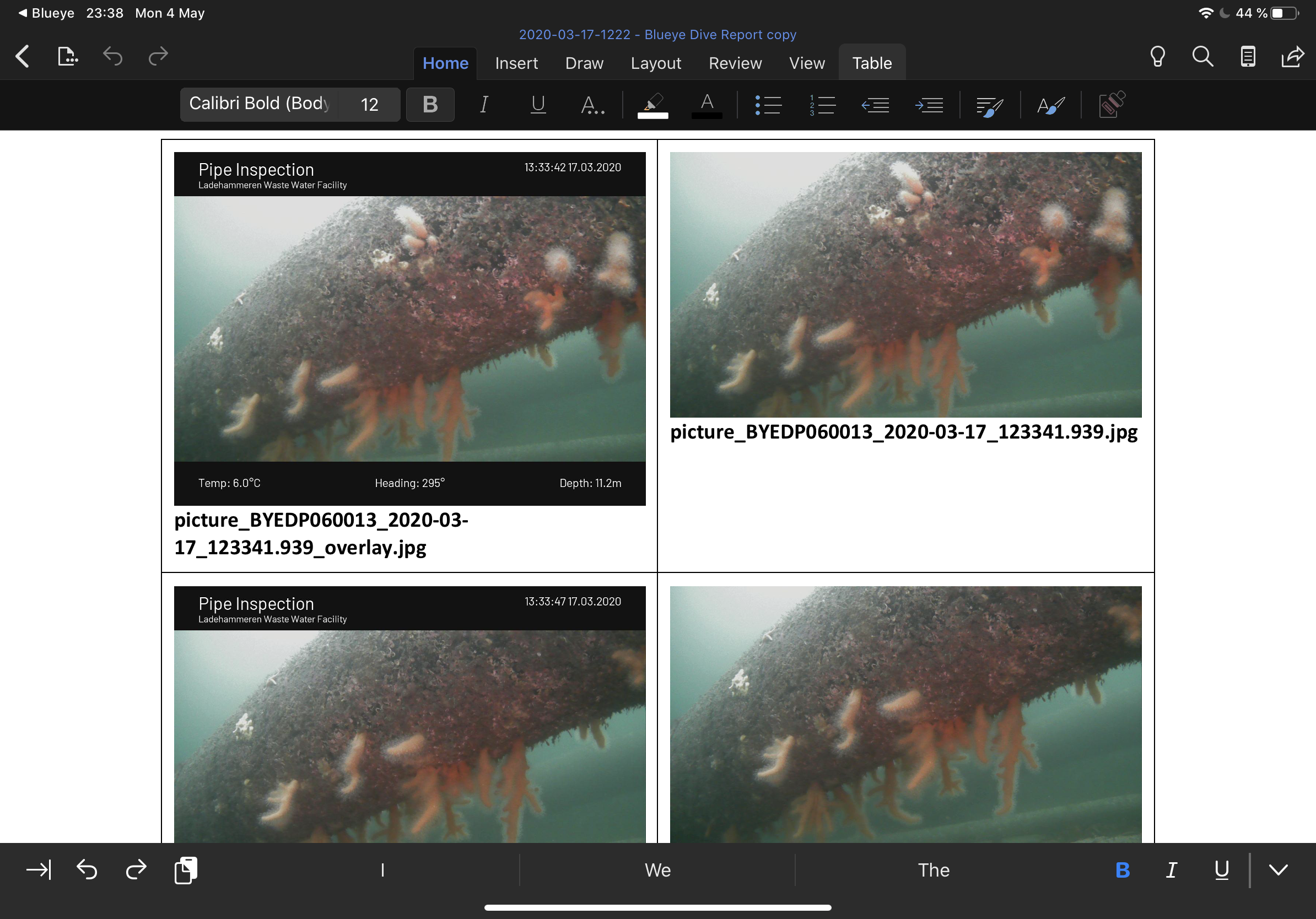 Screenshot of Microsoft Word editing a dive report on iPadOS.
Create a custom report template
The Blueye App comes bundled with a default report template. For advanced users, it is possible to create a custom report template tailor-made for your inspection and reporting needs. This will allow you to select which fields to include in the report and to apply branding and contact information for your organization. Learn more about creating custom report templates.
Logo and titles on dive report
With the Blueye app update version 2.4, it is possible to add logos and titles to the dive report. If you select a custom logo in the app, the logo will also be used instead of the Blueye logo for the default report template.